MADRID (AP) — The body of José Antonio Primo de Rivera, the founder of Spain's fascist Falange movement, will be exhumed from a Madrid mausoleum on Monday and transferred to a city cemetery.
The fascist political leader was executed by Spanish Republicans in November 1936, after Gen. Francisco Franco led an uprising of soldiers in July of that year to bring down Spain's democratically elected government.
The ensuing civil war ended in 1939 with hundreds of thousands dead and the country left in ruins.
Primo de Rivera's death was exploited by Franco.
He is being exhumed in line with updated legislation that bans the glorification of Spain's dictatorship and fascist legacy. His body lies in a huge complex known as the Valley of the Fallen, which was built with forced prison labor to commemorate the fascist victory in the civil war.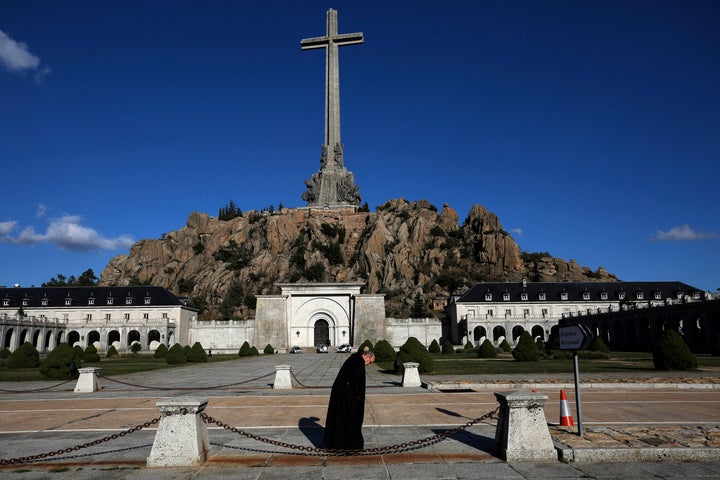 After Franco won the war in 1939, he ruled the country with an iron fist until his death in 1975. He was himself laid to rest in the Valley of the Fallen until 2019, when his remains were flown to a nearby cemetery by helicopter.
The Valley of the Fallen, recently rebaptized with its pre-war name, Cuelgamuros, is also the burial site of 34,000 people killed during the civil war. Many of the dead were initially buried in mass graves which were dug up at Franco's request. The bodies were moved to the Valley of the Fallen to fill the site with victims from both sides.)
Last year, Spain approved a new law on historical memory that nullified legal decisions made during the dictatorship. It makes the central government responsible for the recovery of the still-missing bodies of tens of thousands of people forcibly disappeared by the regime.
Spain's Minister for the Treasury and Public Function, María Jesús Montero, said on the eve of the exhumation that it was important to deliver "justice" for the victims of fascism in Spain. "It's very important that definitive steps are being taken to comply with a law that wants to give reparations and memory to the victims of the coup d'état," she said.
The government wants to turn the mausoleum site at Cuelgamuros into a place for reflection. It wants the bodies taken there without consent to be returned to the families affected.
José Antonio Primo de Rivera was the son of dictator Miguel Primo de Rivera, who ruled Spain from 1923-1930.
Monday will mark the fifth time Primo de Rivera's body has been exhumed since his death. He will be laid to rest near family members in Madrid's San Isidro cemetery.