MOSCOW (AP) — Wall Street Journal reporter Evan Gershkovich filed an appeal Tuesday to be released from jail on espionage charges, but the Moscow City Court did not immediately rule on the matter, causing confusion in Russian media that reported conflicting results from the closed-door session.
The court said in a statement that it returned Gershkovich's case to a lower court due to procedural violations. State news agency Tass reported that the court had rejected Gershkovich's appeal, meaning he will remain jailed until November 30.
Before the session adjourned, Gershkovich appeared in the defendants' glass cage, smiling at reporters and dressed in a yellow sweater and blue jeans. He was arrested in March, during a reporting trip to the city of Yekaterinburg, about 2,000 kilometers (1,200 miles) east of Moscow.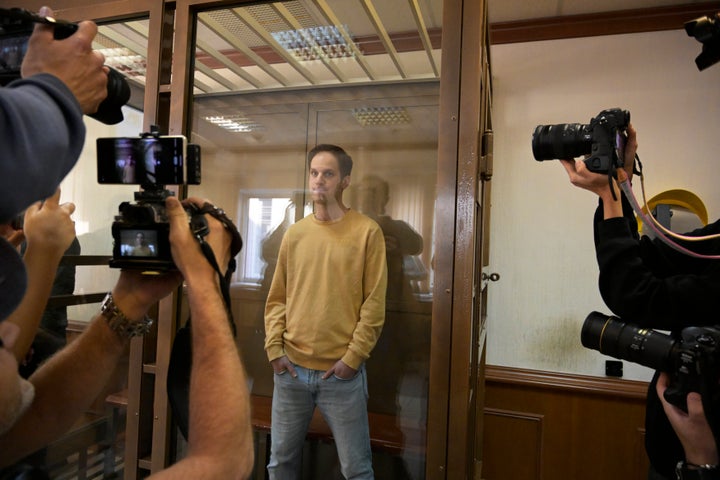 The judicial process is closed because prosecutors say the details of the criminal case are classified. Gershkovich last appeared in court in August, when a judge ruled that she must remain in prison until the end of November. Gershkovich appealed that decision Tuesday.
The US ambassador to Russia, Lynne Tracy, made her fourth visit to Gershkovich on Friday, two days after the journalist's parents appeared at UN headquarters and asked world leaders to urge Russia to release him. Tracy later said that Gershkovich "stays strong and stays on top of the news," including the appeal from his parents.
Russia's Federal Security Service alleged that Gershkovich, "on instructions from the American side, collected information that constituted a state secret about the activities of one of the companies of the Russian military-industrial complex."
Gershkovich and the Journal deny the allegations, and the U.S. government declared that he was unjustly detained. Russian authorities have not detailed any evidence to support the espionage charges.
He is being held in Moscow's Lefortovo prison, known for its harsh conditions.
Gershkovich is the first American reporter to face espionage charges in Russia since 1986, when Nicholas Daniloff, Moscow correspondent for US News and World Report, was arrested by the KGB.
Analysts have noted that Moscow may be using imprisoned Americans as bargaining chips after tensions between the United States and Russia soared when Russia sent troops to Ukraine. At least two American citizens arrested in Russia in recent years, including WNBA star Brittney Griner – have been exchanged for Russians imprisoned in the US.
The Russian Foreign Ministry has said it would consider a swap for Gershkovich only after a verdict in his trial. In Russia, espionage trials can last more than a year.