Loay Elmagri began to panic when he received no response from his relatives in Derna, Libya. The 36-year-old Libyan architect in Washington, DC, knew about the floods destroyed a quarter of the city early last week.
His maternal aunt was home when the storms began early Sunday morning and water flooded her room. Water levels began to rise rapidly, at one point her head hit the ceiling, before she was pulled out of a window.
An elderly woman in her 80s told Elmagri that once she was rescued from the house, she had no choice but to walk. She traveled for miles, barefoot in the mud, seeking shelter. Random people on the street gave him towels to keep warm.
Although Elmagri's family survived, he said, they were among the lucky ones.
"When people meet, they offer their condolences," Elmagri said. "The first question they asked was not who died, but who survived."
Over the past month, two natural disasters hit Libya and Morocco, killing thousands of people.
In Libya, almost 20,000 people They are feared dead after torrents of water devastated the eastern part of the country last week. Heavy rains caused by Tropical Storm Daniel hit two dams, causing them to collapse, sending huge waves of water and washing away entire neighborhoods into the Mediterranean Sea.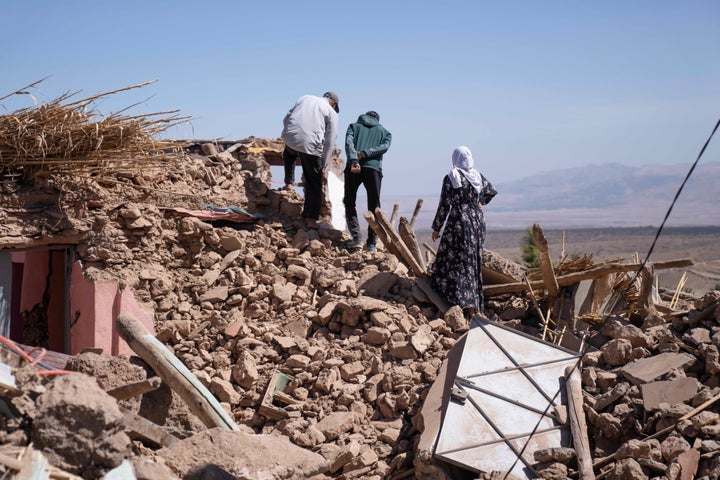 In nearby Morocco, more than 2,900 people died and tens of thousands more were left homeless after a magnitude 6.8 earthquake struck the country on September 8, leveling rural towns in the southwest.
Both North African countries are recovering from natural disasters and calling for international help and search and rescue teams as the death toll continues to rise. Around the world, families in the United States are desperately trying to contact their relatives and loved ones in the hope that they have survived.
Jowhar Ali, a Libyan journalist from Derna currently residing in Istanbul, told HuffPost that dozens of bodies are found daily.
"Our city is the city of culture. The city of poets. The city of theater. The city of art. That's what is known about the city. That is the image I want to convey to the world," Ali said. "Imagine that in 10 years every time you Google the name of our city you will see floods. You will see corpses."
Ali's brother and his children, ages 9 and 10, ventured into the city to see the damage and instead found themselves covering the bodies with whatever blanket they could find.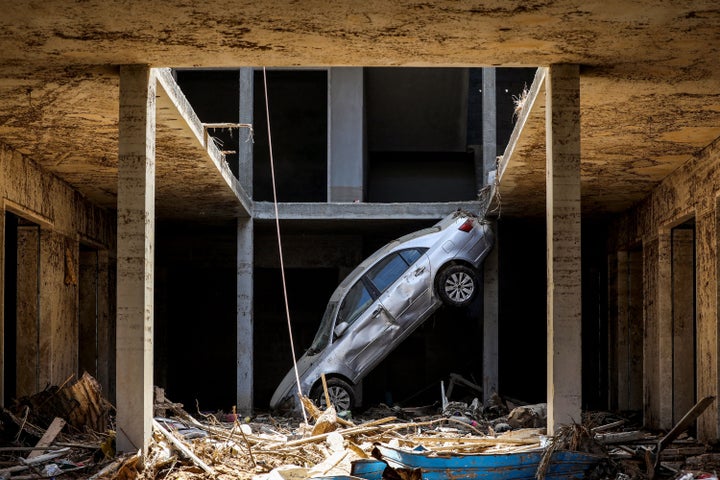 "Imagine that you are living in a city like New York and, in a glance, in just a few hours, the city disappears. Entire neighborhoods have disappeared and the two parts of the city cannot be reconnected," Ali said. "Imagine that after the disaster they tell you again that the city cannot be inhabited again. Imagine that the house you have lived in all your life will not be habitable."
President Joe Biden sent his "deepest condolences" in a statement on Tuesday, noting that the United States was sending emergency aid to the country.
"We join the Libyan people in mourning the loss of too many lives and send our hope to all those loved ones missing," Biden said.
Ciaran Donnelly, senior vice president of crisis response, recovery and development at the International Rescue Committee, told HuffPost that challenges to relief efforts are compounded by Libya's poor infrastructure, political instability and rapid climate change.
"It's really important to look beyond the numbers. Think about the people behind the numbers and the people behind the stories," Donnelly said.
"Each of those individuals affected behind those figures of 34,000 displaced people and 5,000 people who have been murdered, at least. These are family members who are grieving. "Those are parents, those are children and those are people who do everything they can every day to survive, provide for themselves and take care of each other and now urgently need support," he added.
Meanwhile, in Morocco, dozens of countries have offered assistance, including the United States, but the Moroccan government has been slow to allow international aid into the country. Moroccan citizens are frustrated by the government's response, and natives inside and outside the country are coordinating their own efforts to help those affected by the earthquake.
The Moroccan American Recreational and Organizational Council (MAROC), a New Jersey-based cultural organization that provides social services and community events for Moroccan Americans, has partnered with local mosques and charitable organizations to raise funds for those affected by the earthquake.
MAROC President Yassine Elkaryani, who was born and raised in Morocco, said his family in Sale felt the earthquake nearly 300 miles away from the epicenter. Terrified, her parents, her sister and her daughter ran out of the house for fear that it would collapse. When they returned, they couldn't sleep, worried about a second earthquake.
"The trauma is there, but that trauma has given everyone the energy to show solidarity and do what everyone can do to help the victims," ​​he said. "What makes Morocco and Moroccans unique is its people. "Individuals, even though they don't have money and don't have much, are exceptionally generous to other people."
Nashwa Lina Khan, Moroccan American doctor. A student at York University in Canada who focuses on social justice in reproductive health for Moroccan women, she says the earthquake has increased the risks of trafficking and exploitation for girls and vulnerable groups.
"They have always been abandoned and this situation aggravates the risk factors in their lives and marginalization, poverty and desperation," Khan said.
The Atlas Mountains, inhabited primarily by Morocco's indigenous Amazigh population, were some of the hardest hit areas, wiping out entire towns and communities. Khan said women and girls in these areas face unique challenges in accessing resources, seeking shelter and relocating to safety outside of mountainous regions.
While government-provided tents and makeshift hospitals have sprung up in times of greater growth, Amazigh living in remote areas rely on donations left on the side of the road, compounding health problems. isolation and abandonment.
"Morocco is a really unique place because it lives in people's minds as a vacation destination," Khan said. "Morocco has a mixed population of people who have means, but there is also a population that is precarious and is very vulnerable at the moment."